Garbage Services in Rochester, MN
Partner with Aspen Waste, the premier garbage service Rochester MN residents trust for their waste management needs. We pride ourselves on being more than just one of the garbage companies Rochester MN homeowners can choose from.
We are your neighbors, your hometown haulers, dedicated to providing reliable, efficient, and eco-friendly waste collection services across Olmsted County. With a commitment to preserving the beauty of our Rochester MN landscape, we offer comprehensive garbage removal Rochester MN services to meet your every requirement.
We are proud to deliver residential garbage service Rochester MN homeowners can rely on. From regular trash service Rochester MN households need for their daily waste, to specialized solid waste management, our services are tailored to suit your specific needs. Our trash collection Rochester MN system is designed for your convenience, ensuring that your surroundings stay clean and uncluttered. Our mission is to provide trash removal Rochester MN citizens can depend on, no matter the scale or frequency.
Beyond trash pickup Rochester MN services, Aspen Waste is committed to providing unparalleled customer service. Our local team is always ready to answer your questions and address your concerns, making us the most approachable Rochester, MN, garbage service Rochester Minnesota can offer. With a wide array of services from residential waste collection to solid waste management, we are your one-stop solution in Rochester for all your waste removal and management needs. Trust Aspen Waste to keep your homes clean and your communities green.
Call Aspen Waste today at 507-268-5349 to sign up for services or fill out the sign up form below.
Rochester Trash and Recycling Services
The City of Rochester does not provide Rochester trash services and prohibits any trash hauling on public streets without properly covered vehicles or containers to contain refuse from scattering in transit. The City also requires any person engaged in the business of collecting trash in the City to be licensed by the County of Olmsted. Make it easy, contact a local hauler for trash, recycling, and bulky pickup service options.
Trash and recycling containers sizes
Small, medium, and large-sized trash containers may be available (inquire with your hauler). Aspen offers 65g and 95g recycling cart options in Rochester.
Rochester Trash Hours of Collection and Frequency
Pursuant to Rochester ordinances, trash is collected between the hours of 7 a.m. and 6:30 p.m., except in commercially or industrially zoned areas where earlier pick-up is permissible. Trash must be picked up weekly. Aspen residential customers must properly set out their trash bins no later than 7 am on collection day.
Recycling Requirements
Olmsted County requires its residents and businesses to recycle. You may meet this requirement by hiring a properly Licensed Hauler.
Follow these recycling rules to ensure your recycling gets recycled:
Do not use plastic bags. Place recyclables loose in your recycling cart or in a paper bag.
Empty and dry bottles, jars, and containers. They don't have to be perfect – just free of most residue.
Aluminum and tin/steel cans, cardboard and paperboard
Mile and juice cartons
Leave caps on containers.
Empty and flatten boxes.
Check the Recycling Guide if you are not sure about an item.
Efficient Waste Solutions with Rochester, Minnesota Residential Trash Services
From curbside collection to recycling programs, we offer custom solutions for easy and eco-friendly disposal. Our trash service – Rochester, MN residential garbage collection team handles your trash responsibly to minimize its harmful impacts.
We do more than provide garbage service in the City of Rochester. We're also proud residents who live and work in your neighborhood. With a shared passion for our town, we treat your trash as if it's our own.
What day is trash pickup?
Monday southeast and northeast quadrants

Tuesday southeast and northeast quadrants

Wednesday southwest quadrant

Thursday northwest quadrant

Friday northwest quadrant
 To find trash pickup on your street visit: ordinance 3505.3, Subs. 4.
Where does my Rochester garbage go?
Waste-to-Energy Facility
301 Energy Parkway NE
Rochester, MN 55906
Kalmar Landfill
7401 19th Street NW
Rochester, MN 55901
Where does my Rochester Recycling go?
Recycling Center Plus
305 Energy Parkway NE
Rochester, MN 55906
507-328-7070
Proposed Materials Recovery Facility
Recently, Olmsted County received some funding from the State of Minnesota to build a Materials Recovery Facility for recycling processing. The County continues to seek additional funding and is in the process of planning the MRF build. This option would provide a much closer location for sorting recyclables and would also include equipment to clean garbage before it is processed in the waste-to-energy facility. At this time, the County indicates April 2025 for project completion
Where does my Rochester Yard Waste go?
Compost Site
Across the street from Hazardous Waste Facility-
305 Energy Parkway NE
Rochester, MN 55906
507-328-7070
*Aspen Waste does not currently provide curbside yard waste service in Rochester.
What are the Trash Pick Up Holidays in Rochester?
Aspen holidays are:
New Years Day

Memorial Day

Fourth of July

Labor Day

Thanksgiving

Christmas
 Collection days will be delayed one day if it falls on a holiday.
What common household items cannot be recycled?
Lithium and rechargeable batteries

Plastic bags, wrap, film

Reusable clothing and linens

Holiday lights and cords

Electronics

Mattresses

Shredded paper

Small appliances and scrap metal

Large appliances

Carpet and carpet pads

Lighting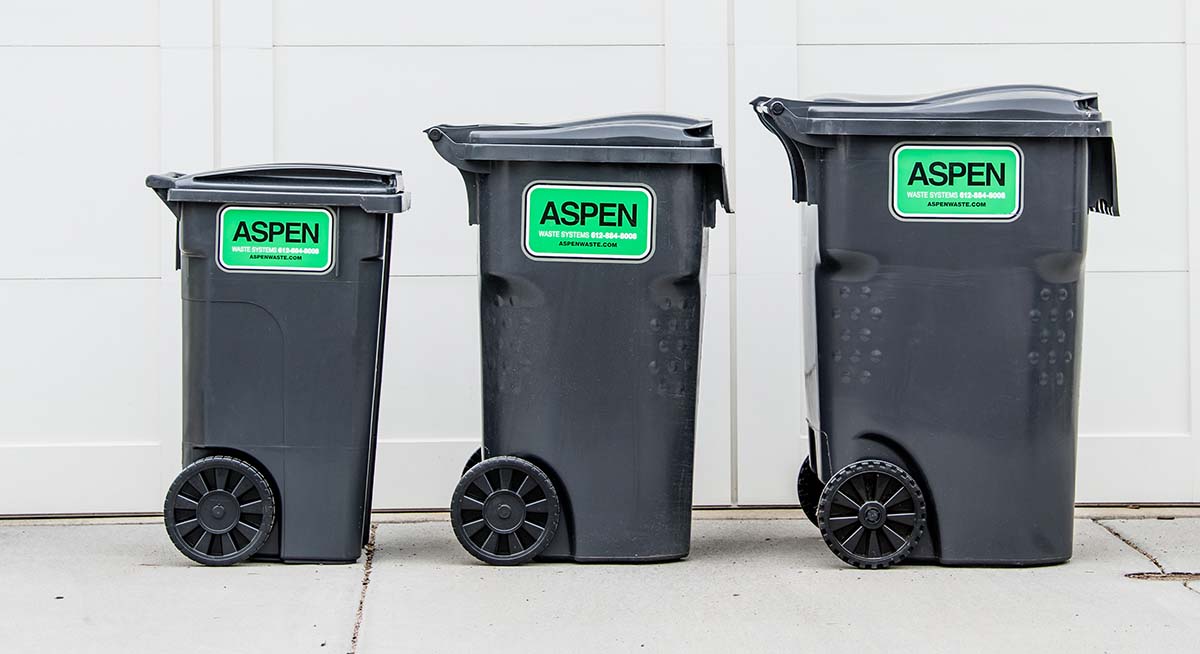 …it's been a breath of fresh air to be able to call your waste service and have a human pickup on the first ring
Sign up for Aspen's residential service now.
Use to form below to sign up for services or call Aspen today at 507-268-5349."