Residential Garbage Services in Edina, MN
Edina is one of those cherished Minnesota cities with a never-ending list of fun things to do and see. Whether its spending time biking or walking in Centennial Lakes Park, bringing children to the exciting and entertaining Edenborough Park, checking out 50th and France with all its shops and restaurants, or perusing all the finest brands at The Galleria, one is never short of options in Edina.
 This City thrives and bustles with its many forms of entertainment and shining, clean feel. While often behind the scenes, trash haulers contribute to this success, by consistently and constantly picking up the trash and recycling generated by homeowners, businesses, and visitors daily. In the City of Edina, Aspen Waste strives to help keep the City of Edina clean by providing consistent and reliable residential and business trash collection. If you are an Edina resident or business owner, we hope you will consider Aspen for your trash collection needs
There is no city-required or provided trash hauler in Edina. Instead, the City allows its residents to choose a city-licensed trash hauler of the resident's choice. Aspen Waste Systems, local to Minnesota, provides trash service to Edina residents. Contact Aspen today to learn more about Edina trash services.
Aspen offers Edina residents small, medium and large-sized trash cans for trash collection.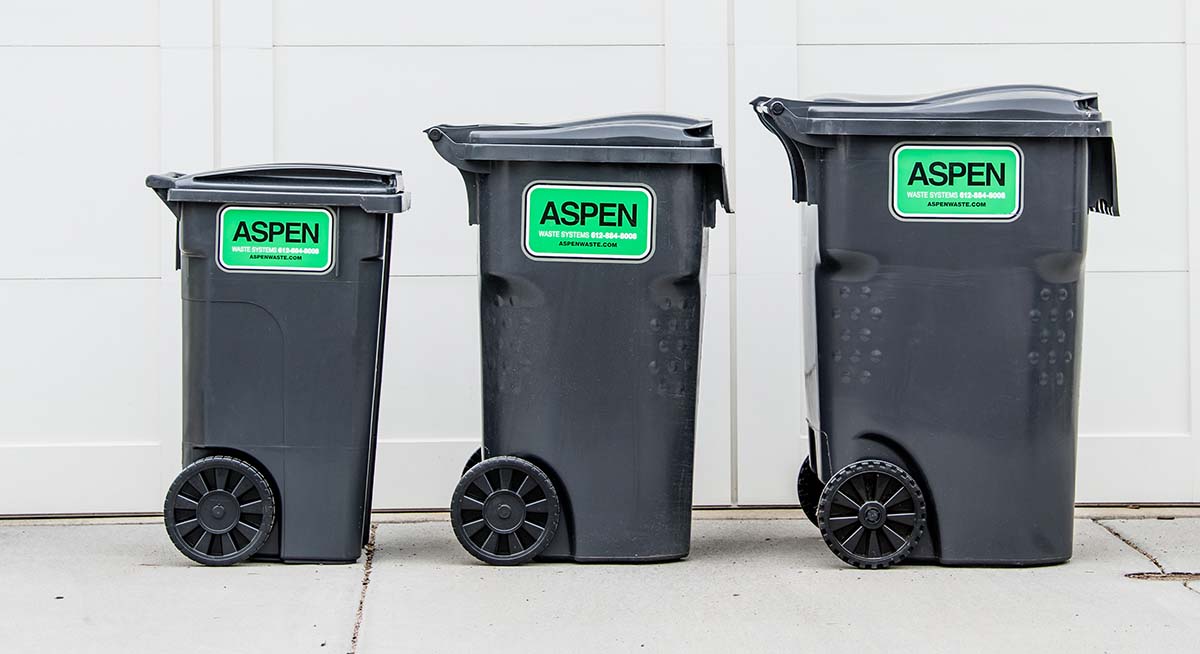 …it's been a breath of fresh air to be able to call your waste service and have a human pickup on the first ring
Edina Yard Waste Services
Aspen Waste Systems also provides yard waste disposal services to Edina residents. Aspen offers weekly yard waste pick up options during yard waste season (typically April to November) or as an on call pick up. Contact Aspen Waste today to set up service.
The City of Edina contracts with a third-party hauler to provide recycling and organics waste services. You may select Aspen Waste as your trash hauler with the City hauler providing recycling and organics.
What day is Edina trash pickup?
Your Edina trash collection day will depend on where you live in the City and the hauler your choose. Contact Aspen Waste Systems today to learn more about your trash pick up options and collection day. You may contact us by calling 612-884-8008 or completing our contact form below
What time does trash service in Edina start?
Make sure to have your container out at the curb by 7:00 a.m. on collection day for Edina residential garbage collection. Containers may not be taken to the curb more than 12 hours before collection. After collection, containers must be kept within 5 feet of a home or garage.
How do I dispose of household hazardous waste in Edina?
Hazardous waste is not allowed in garbage. See below for alternative disposal options:
 Appliances: give them away, or sell or donate. Habitat for Humanity ReStore, Better Futures Minnesota, or Salvation Army may accept appliances donations.  Xcel Energy also offers a cash rebate and free pick up and recycling services for spare refrigerators or freezers in working condition. Appliances may also be recycled. Some locations accepting appliances for recycling include:
Batteries. Batteries are not allowed in the trash, but you can drop them off at the Bloomington or Brooklyn Park drop off facility.
 Electronics. Electronics are accepted for recycling by Best Buy, Recycle Technologies, Repowered, and Staples. You may also drop electronics off at the Bloomington or Brooklyn Park drop off facility.
 Fluorescent light bulbs. It is illegal to put fluorescent light bulbs in the garbage; they contain mercury, and those must be disposed of in particular manners. Check with your local hardware store, many of which accept fluorescent light bulbs for recycling
What are the Trash Pick Up Holidays in Edina?
Aspen holidays are:
New Years Day

Memorial Day

Fourth of July

Labor Day

Thanksgiving

Christmas
Collection days will be delayed one day if it falls on a holiday.
What common household items cannot be recycled?
All junk mail and envelopes
Aluminum, steel, and tin cans
Brown paper sacks/bags
Cardboard (broken-down boxes)
Cereal and cracker-type boxes
Glass bottles and jars
Juice boxes and other paper cartons
Magazines and catalogs
Newspaper and newspaper inserts
Office and school paper (all colors)
Phone books
Plastic milk jugs and paper milk cartons
Plastics Numbers 1, 2 and 5 but no black plastic
Yogurt cups and margarine/whip cream tubs
Sign up for Aspen's residential service now.