Residential Trash Service – Stookey Township, IL
Stookey Township has entered into an agreement with Aspen Waste Systems to be the sole provider of waste, recycling, and yard waste service for all residential properties in Stookey Township, as of October 1, 2023. All residential units (including single family dwellings, multi-family units and mobile homes) will be provided with trash service under this program, and we will be delivering trash carts to all residents who are not currently Aspen customers throughout the month of September. If you are not a current Aspen customer, we still need a few more details from you to successfully set up your account. Please click sign up for service now and provide us with the information requested. We look forward to servicing Stookey Township!
2023 Service Information and Rates
| | |
| --- | --- |
| Weekly Trash Service (Required) | $13.46/month |
| Bi-Weekly Recycle Service (Optional) | $8.50/month |
| Weekly Yard Waste Service (Optional) | $13.46/month |
Weekly Trash Collection
We will be servicing the Township 5 days a week, and your day of week will be dependent on your location in the Township. You should have received your day of collection in the introduction letter you received from us. If you don't know your pickup day, please call customer service. You can sign up below for an additional trash cart for $5/month.
Recycling
Recycling service is optional, and will be picked up biweekly if you sign up for service. This service includes a 96 gallon cart for $8.50/month. Stookey Township will be collected on the GRAY week. See Aspen's recycling calendars and guide here. You can sign up below for an additional cart for $5/month.
Yard Waste
Yard Waste service is optional. We provide a weekly subscription service, which you can sign up for below or by calling customer service. This service includes a 96g cart and up to 12 biodegradable bags per week for $13.46/month. You can sign up below for an additional cart for $5/month. We also provide an on call option; please call customer service to set up this service.
Frequently Asked Questions about Aspen Service in Stookey Township, IL
Am I required to have trash service with Aspen?
Yes, under the Stookey trash ordinance, all Stookey residential properties must have trash collection through the Aspen contracted agreement.
How do I dispose of bulkies and what will it cost?
Please call to schedule bulky item pick up. Two bulky items per month will be included in the price and collected every other week on your service day, with a call 24 hours in advance. Please see bulk item pick up schedule here, bulk items will be collected on the GREEN week. Call to inquire about pricing for extra bulky pick ups.
What do I do if I have extra trash that will not fit in my trash cart?
Contact customer service in advance of your service day to let us know you will have extra material. The cost for extra bags of trash are $3.00/bag and will be added to your next statement. If needed, you can add an additional trash cart to your service by signing up below. The cost is $5/month.
What are the guidelines for placing my carts at the curb?
Place carts out on your collection day before 6:00am or put them out the night before
All carts should be rolled to the alley or driveway- carts should never be placed in the street
Place carts within 3 feet from the curb or alley line, with lids opening towards the street
Place carts at least 3 feet from any other carts, extra bags or items, and structures such as mailboxes, lamp posts, cars or garages
Place your carts on as level of a surface as possible and away from low-hanging tree branches
During winter months, be sure to clean snow and/or ice from around your carts
When will I receive my first bill from Aspen? When will it be due?
If you are an existing Aspen customer, your billing will continue and your new rates will be effective in October. If you are new to Aspen, your first billing will be generated September 20, 2023, and this statement will cover your first three months of service, October, November and December. The billing will be due October 10, 2023.
How can I pay my Aspen bill?
Aspen offers autopay which can be set up online or by phone using your bank account or credit card. You can also mail in a check or make a one-time payment online or over the phone at no additional charge with your bank information or credit card.
Will there be a fuel surcharge assessed to my residential bill?
No. Fuel surcharges are not permitted under the Stookey residential contract.
Do you provide dumpster service?
Yes, please see our residential dumpster pricing below.
| Service | Monthly Rate |
| --- | --- |
| 2 Yard once a week trash service | $66.00 |
| 4 Yard once a week trash service | $86.00 |
| 6 Yard once a week trash service | $104.00 |
| 8 Yard once a week trash service | $120.00 |
* Please call Aspen Customer Service to set up residential dumpster services (online sign up for dumpster service not available).
* Multi family properties choosing dumpster service must have all units participating in such dumpster service. There cannot be a combination of carts and dumpsters at multi-family units.
Commercial, nonresidential business owners may also call Aspen for commercial dumpster pricing.
Does Aspen provide Christmas tree collection under the contract?
Yes. During the month of January, Aspen will offer complimentary collection for up to two natural trees per Residential Unit. Pick up shall occur on the day of regular trash collection.
What can I include in my recycling cart?
What can I include in my yard waste cart?
Bagged leaves
Bagged grass clippings
Bagged garden waste (limit 35 lbs. per bag)
Brush and twigs (limbs no more than 3 inches in diameter and no more than 4 feet long, tied in bundles no more than 2 feet in diameter.)
Hay
Straw
What is the holiday schedule?
Click here to view Aspen's residential holiday collection schedule.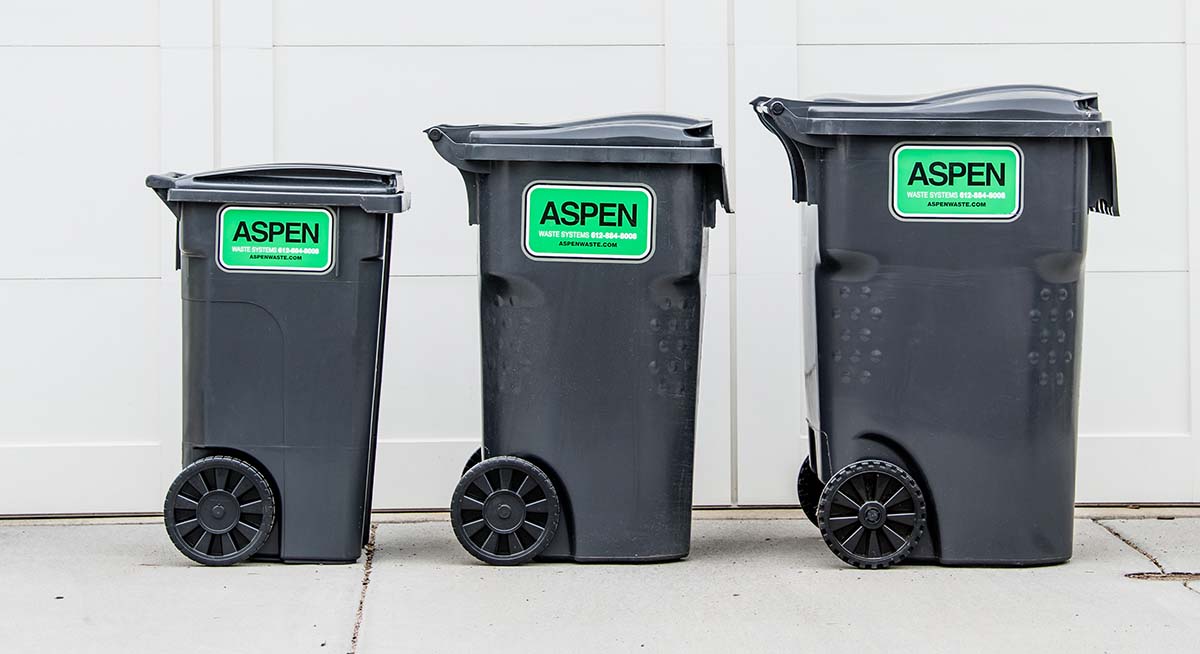 …it's been a breath of fresh air to be able to call your waste service and have a human pickup on the first ring
Please provide us with the following information so that we can successfully set up your account.