Residential Trash Service – Godfrey, IL
The premier waste management service in Godfrey, IL, is Aspen Waste. Our team is prepped and ready to tackle any problem so that your neighborhood stays beautiful. Through proper garbage and recycling, we'll keep Godfrey clean.
It's an easy choice to make. We do all the hard work, and we handle everything seamlessly. Let us be your partner for a better home, yard, neighborhood, and village.  The Village of Godfrey does not provide trash services.  Sign up with Aspen Waste for trash and bulky pick-up service options. 
What can I recycle in Godfrey, IL?
Paper and cardboard
Aluminum/ metal
Glass
Plastic (bottles, containers)
What common household items are not eligible for curbside recycling?
No plastic grocery bags
No food waste
No yard waste
No light bulls, wind glass or mirror
Not batteries
No ceramics
No cellphones
No clothing
No styrofoam
No hazardous waste
Check out the Recycling WORKS When We Recycle BETTER PDF for more information.
Frequently Asked Questions about Aspen Service in Godfrey
What days are trash day in Godfrey, IL?
Aspen provides trash service on Thursdays in Godfrey, IL
What time does trash collection start?
Trash must be set out by 6 am to be ready for curbside collection.
How do I dispose of electronics in Godfrey?
Madison County offers E-cycling events quarterly every year where residents can drop off electronics. Appointments are required, and you must be a Madison County Resident.
Where does my Godfrey Trash and Recycling go?
   Trash Landfills near Godfrey
WM Milam Landfill
601 Madison Rd,
East St. Louis, IL 62201
     Recycling near Godfrey
Aspen does not currently offer curbside recycling collection, but drop-off collection facilities are listed below.
Edwardsville: 2500 Troy Road, Home Depot parking lot, serviced Monday through Friday. NOTE: This container is not available on weekends and is removed from the location at 10 a.m. on Fridays.
Alton: 400 Piasa St., downtown Alton across from the federal building, serviced Monday, Wednesday, and Friday.
Collinsville: 1600 Olive St, at Fletcher Field Parking Lot, serviced Monday, Wednesday, and Friday.
Hamel: 403 Old US Route 66, Located at the Township maintenance shed and Hamel Community Fire Protection District Office, serviced Tuesdays and Fridays.
Marine: 630 W Leopold St., Off Leopold, behind Marine Township Highway Garage, just past Vernon, serviced Tuesdays and Fridays.
Maryville: 8 Schiber Court, Off Vadalabene, by Drost Park, Public Works Department, and Community Library, serviced Mondays and Thursdays.
New Douglas: 8363 East Frontage Road, Across I-55 from the Pink Elephant Antique Mall, off Alhambra Road, serviced Tuesdays & Fridays.
Note: Only put recyclable items (e.g., paper, cardboard, aluminum/metal, glass, and plastic containers) in your curbside recycling bin. Separate plastic grocery bags, food waste, yard waste, light bulbs, glass/mirrors, batteries, ceramics, cell phones, clothing, styrofoam, and hazardous waste.
For information on landscape waste, this article can be helpful.
For disposing of food scraps properly, read this.
As for yard waste, electronics, and other bulky items that don't fit your curbside trash bins, Aspen Waste can help.
How do I dispose of food scraps in Godfrey?
Godfrey residents can trash their food scraps or choose to compost them. Composting food scraps is a great way to save landfill space and reduce methane gas emissions. Adding compost to soils may also help sandy or gravelly soils retain moisture and improve drainage.  Madison County offers a Compost Guide to residents for reference in how to compost.
Choose Aspen Waste Trash Service In Godfrey, IL
Located in nearby Fairmont, IL, Aspen Waste's local hauling office guarantees our prompt and efficient response. Our Godfrey Garbage Collection representative will speak directly to you to address any questions, concerns, or requests.
Find the right local waste management solution with our trash service in Godfrey, IL. Say goodbye to overflowing bins, missed pickups, and the hassle of managing it all.
Don't let your waste pile up any longer. Contact us today at 314-890-9820 or 618-277-9100.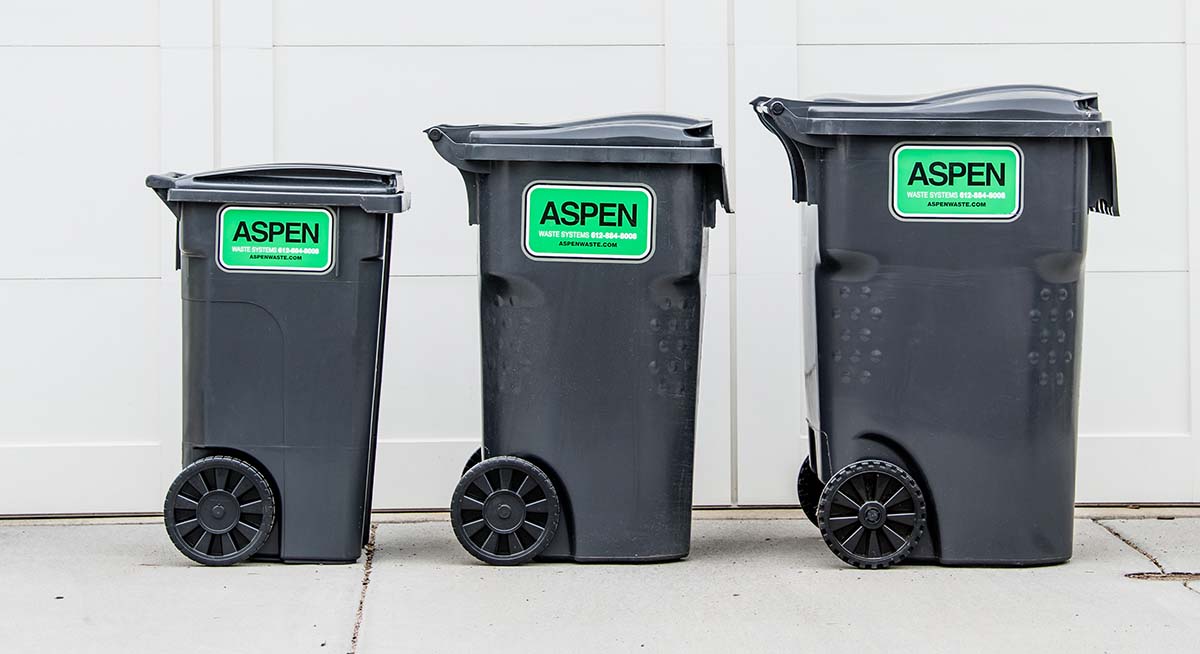 …it's been a breath of fresh air to be able to call your waste service and have a human pickup on the first ring
Sign up for Aspen's residential service now.