Residential Trash Service – Ankeny, IA
The leading service for waste management in Ankeny, Iowa, is Aspen Waste. Our dedicated team stands prepared and willing to handle any issue, ensuring that your neighborhood maintains its charm. Through efficient garbage collection, we help keep Ankeny pristine.
Choosing us is a no-brainer. We undertake all the challenging tasks, and we manage everything in an effort to make it easier on you. Allow us to be your ally for an improved home, yard, neighborhood, and city. The City of Ankeny does not provide trash services. Please call our office to sign up with Aspen Waste for trash pickup and bulk pick-up services.

City of Ankeny, IA Residential Waste Management
In Ankeny, IA, the city doesn't provide a mandatory garbage service. Instead, residents are free to choose any city-approved trash hauler. One such provider, Aspen Waste Systems, has an office local to Ankeny, and offers trash services to Ankeny residents. For more information about Aspen's waste management services in the City of Ankeny, get in touch with them directly.
If you're looking for residential garbage collection in Ankeny, IA, you might find trash containers in small, medium, and large sizes. Check with your chosen hauler for available options.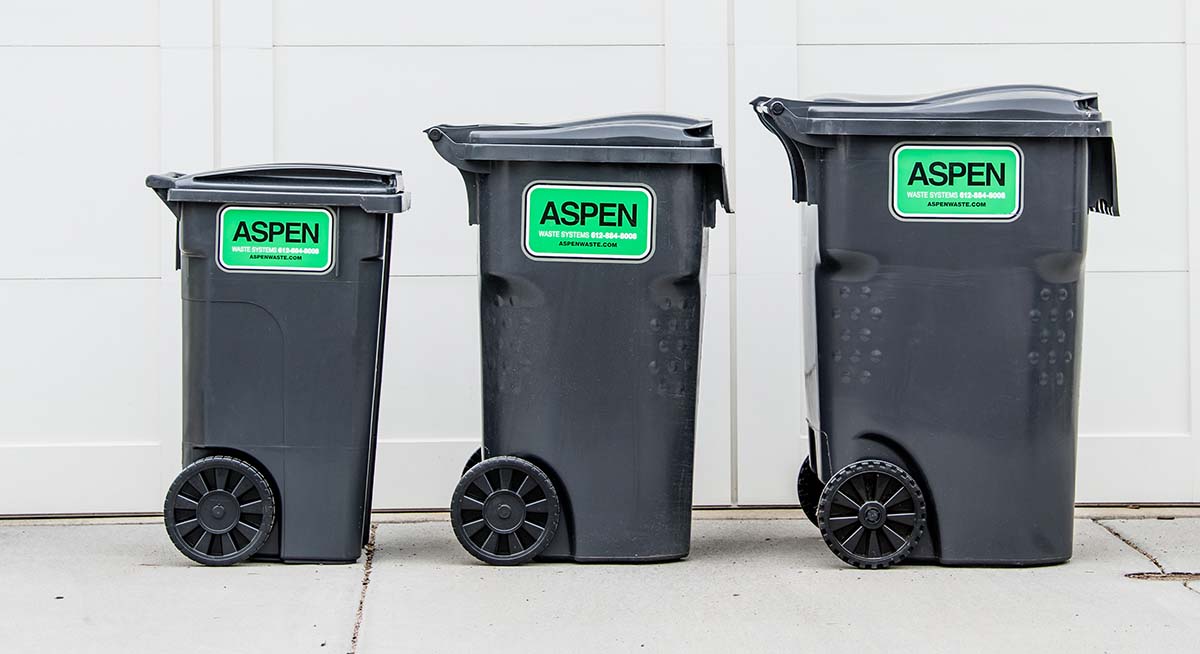 …it's been a breath of fresh air to be able to call your waste service and have a human pickup on the first ring
Ankeny Yard Waste Services
Yard waste includes grass clippings, leaves, weeds, branches, and other soft plant materials, including root balls, brushes, and stumps. Unlike other waste, yard waste isn't sent to landfills and should be collected separately. Aspen Waste Systems offers yard waste disposal for Ankeny residents.
 Aspen Waste provides weekly pick-ups during the yard waste season, which is typically from April to November. On-demand pick-ups are also available. Reach out to Aspen Waste to arrange a service. Additionally, Ankeny residents can take certain yard wastes like tree and branch recyclables, and leaves to designated Ankeny collection sites. 
The City of Ankeny has arranged for residents to receive recycling services. Contact the city or Metro Waste Authority for more information on recycling options.
Disposing of Electronics in Ankeny, Iowa 
Electronics like televisions or computers contain hazardous materials, and you may not dispose of them in your curbside trash. Metro Waste Authority offers drop-off options and will take stereos, VCRs, DVD players, and speakers. TVs can also be recycled at the Metro Waste Drop-Off in Bondurant, Metro Park East Landfill
1105 Prairie Drive SW
Bondurant, IA 50035
Q1. What day is Ankeny, IA, residential trash pickup?
In Ankeny, Iowa, Aspen Waste picks up residential trash on Mondays, Thursdays, and Fridays, with the exact day depending on your address.
Q2. What time does trash collection start?
Ensure your trash container is on the curb by 6:00 a.m. on the day of collection. You can also place it out the night before.
Q3.  How do I dispose of household hazardous waste in Ankeny, Iowa?
If you're part of the Curb It! recycling program, you might qualify for at-home pickup of household hazardous waste. The Metro Waste Authority provides this service to certain communities. To avail it, eligible residents should complete a form on the Metro Waste Authority's website and cover the applicable fee.  Accepted items include:
Batteries
TVs (with size restrictions)
Garden and lawn chemicals
Automotive chemicals
Household cleaning products
Gasoline
Lightbulbs
Motor oil and antifreeze
Paint
Pesticides
Pool chemicals
Sharps
Aternatively, you can drop off your hazardous waste at the Bondurant Metro Waste Hazardous Waste Drop-off during their business hours. You can also schedule an appointment to drop it off at the Metro Northwest Transfer Station in Grimes.
Q4. Where does my Ankeny garbage go?
Metro Waste Authority Landfill – locations
Metro Park East Landfill
12181 NE University Ave
Mitchellville, IA 50169
Metro Park West Landfill
2499 337th St
Perry, IA 50220
Q5: What are the Trash Pick Up Holidays in Ankeny?
Aspen holidays are:
New Years Day

Memorial Day

Fourth of July

Labor Day

Thanksgiving

Christmas
Collection days will be delayed one day if it falls on a holiday.
Q6. What common household items cannot be recycled?
Sign up for Aspen's residential service now.