Residential Waste Management in Eagan, MN
Partner with Aspen Waste for exceptional residential waste management in Eagan, MN. Our local team is ready to roll up their sleeves and address your problems through proper garbage and recycling practices.
No more waiting around—we'll handle everything seamlessly. Let's keep Eagan's beauty blooming, one garbage bin at a time.
Eagan Trash Collection: Government & Residential Initiatives
Take part in Eagan, Apple Valley, Burnsville, and Lakeville's collaborative waste management initiatives through Dakota Valley Recycling (DVR). The Minnesota State Statute 115A.551's goal is to reach a 75% recycling rate by 2030. Pursuant to Dakota County Ordinance 110, Eagan garbage haulers provide weekly recycling collection to Eagan residents.
Eagan Trash and Recycling Services
Trash and recycling containers sizes
For garbage services in Eagan, MN, small, medium and large-sized trash containers may be available (inquire with your hauler). Aspen, a trash company in Eagan, offers 65g and 95g recycling carts options. City Code stipulates that the cost of recycling containers can not be increased when choosing a larger-sized container.
Eagan Recycling Frequency
Pursuant to Dakota County Ordinance 110, haulers are now required to offer weekly, rather than biweekly, residential recycling collection to Dakota County residents, including Eagan residents.
Recycling instructions
Do not use plastic bags. Place recyclables loose in your recycling cart or in a paper bag.
Empty and dry bottles, jars, and containers. They don't have to be perfect – just free of most residue.
Leave caps on containers.
Empty and flatten boxes.
Check the Recycling Guide if you are not sure about an item.
Efficient Waste Solutions with Eagan, Minnesota Residential Trash Services
From curbside collection to recycling programs, we offer custom solutions for easy and eco-friendly disposal. Our trash service – Eagan, MN residential garbage collection team handles your trash responsibly to minimize its harmful impacts.
We do more than provide garbage service in the City of Eagan. We're also proud residents who live and work in your neighborhood. With a shared passion for our town, we treat your trash as if it's our own.
Frequently Asked Questions about Aspen Service in Eagan
What day is trash pickup?
Monday: West of Lexington and north of Diffley Road
Wednesday: West of Lexington Avenue and South of Diffley Road
Friday: East of Lexington Avenue
To find trash pickup on your street visit, click here.
What time does trash collection start?
Trash and recycling containers must be on the curb or at the collection point from 6:00 p.m. the night before collection to 6:00 a.m. the day of collection. Make sure to have your container out at the curb by 6:00 a.m.. At all other times, containers must be stored inside the home, garage or at a point behind the front of the home or garage so they are not seen from the street.
Where does my Eagan garbage go?
Transfer Stations/Public Drop-Off Sites
Freeway Transfer, Inc.
1020 W Black Dog Rd
Burnsville, MN 55337
952-890-5300
Located off I-35W on Black Dog Road, bear left at US Salt and drive 0.4 miles south.
Hours: Mon-Fri 7:00 am – 5:00 pm, Sat 8:00 am – 4:00 pm
Accepted: construction & remodelling waste (drywall, lumber, etc), wood furniture
No food waste, clothing or textiles; extra charge for stuffed furniture & mattresses
Cash or check only
Randy's Environmental Services South Public Drop Site
12620 Vincent Ave S
Burnsville, MN 55337
763-972-3335
Located behind McDonalds, 1 mile west of I-35W on the south frontage road of Hwy 13.
Hours
List of items accepted (call for pricing).
Alpha Container Services & Recycling
4180 160th St. E.
Rosemount, MN 55068
651-438-8855
Recycling Minnesota – Operated by Dick's Sanitation
8812 215th St. W.
Lakeville, MN 55044
952-469-5161
Sanitary Landfills
Pine Bend Landfill*
2495 117th St E
Inver Grove Heights, MN 55075
651-457-2778
*There is a 1 ton price minimum for waste brought to this site. Call for more information.
Burnsville Sanitary Landfill (Waste Management)**
2650 Cliff Rd W
Burnsville, MN 55337
952-890-1100
**There is a 3 ton pricing minimum for waste brought to this site. Call for more information.
Demolition Landfills
These landfills take solid waste resulting from the demolition or construction of buildings, roads and other structures. Materials include concrete, sheet rock, brick, asphalt, treated and untreated wood, masonry, glass and plastic building parts. Please call the phone number provided to inquire about pricing for specific items or quantities.
Dem-Con Landfill
3601 W. 130th St
Shakopee, MN 55379
952-445-5755
Website
What common household items cannot be recycled?
Paper towels
Plastic bags
Plastic plant pots
Wood products
Yard waste
Black plastic
Paper plates, cups, and napkins
Shredded paper
appliances
Styrofoam
Hazardous waste
How do I dispose of appliances in Eagan?
Drop off microwaves at Alters Metal Recycling (St. Paul) 801 Barge Channel Road, St. Paul, MN 651-222-2751
Drop off TV monitors, DVD players, electronic games, laptops, computers and printers at the Recycling Zone The Recycling Zone, Eagan MN; 952-891-7800; recyclingzone@co.dakota.mn.us
The Recycling Zone also accepts batteries, paint, aerosols, and small household appliances. Visit https://www.co.dakota.mn.us/Environment/RecyclingZone/Materials/Pages/default.aspx for the full list.
You may also contact your local hauler for appliance disposal assistance. Aspen Waste Systems offers bulk item pick up, which includes electronic and appliance pick up, as a service option.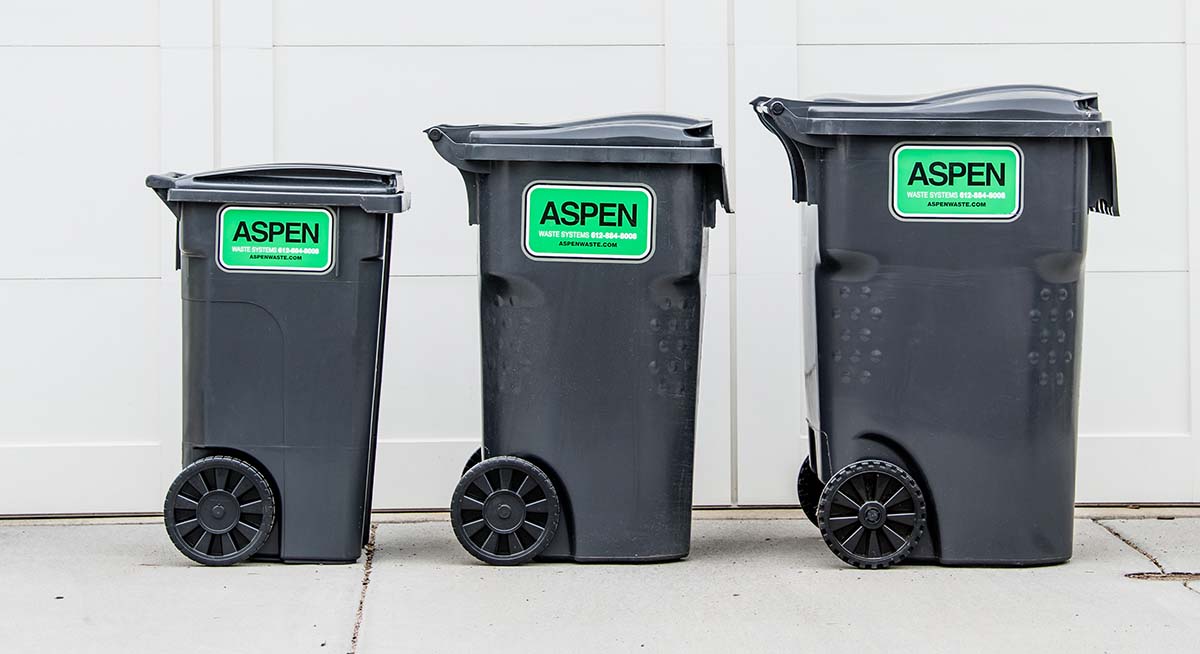 …it's been a breath of fresh air to be able to call your waste service and have a human pickup on the first ring
Sign up for Aspen's residential service now.