Residential Waste Management in Golden Valley, MN
When it comes to reliable garbage service in Golden Valley, Aspen Waste stands out as your premier choice. We're proud to provide residential trash services in Minnesota and take pride in delivering top-notch waste management solutions to our valued customers.
 Our local team is well-prepared and eager to roll up their sleeves to address all your waste needs promptly and effectively. From residential trash collection in Golden Valley to implementing proper garbage disposal, we've got you covered.
 Say goodbye to the inconvenience of waiting around for subpar service. With Aspen Waste, you can trust us to handle everything seamlessly, ensuring a smooth and hassle-free experience for all your residential trash services in Golden Valley. 
 As the leading garbage hauler in Golden Valley, we are committed to maintaining the natural beauty of this charming city, one garbage bin at a time. Let's work together to keep our residential trash collection in pristine condition, fostering a cleaner and greener environment for all.
Trash Services in Golden Valley, MN
The city of Golden Valley offers an open garbage hauling system, which means that residents can select a trash hauler of their choice, from a list of licensed haulers within the city. Aspen Waste Systems is a licensed hauler and offers curbside trash collection for garbage in Golden Valley.  Contact Aspen Waste today to set up service.
Small, medium, and large-sized trash containers may be available.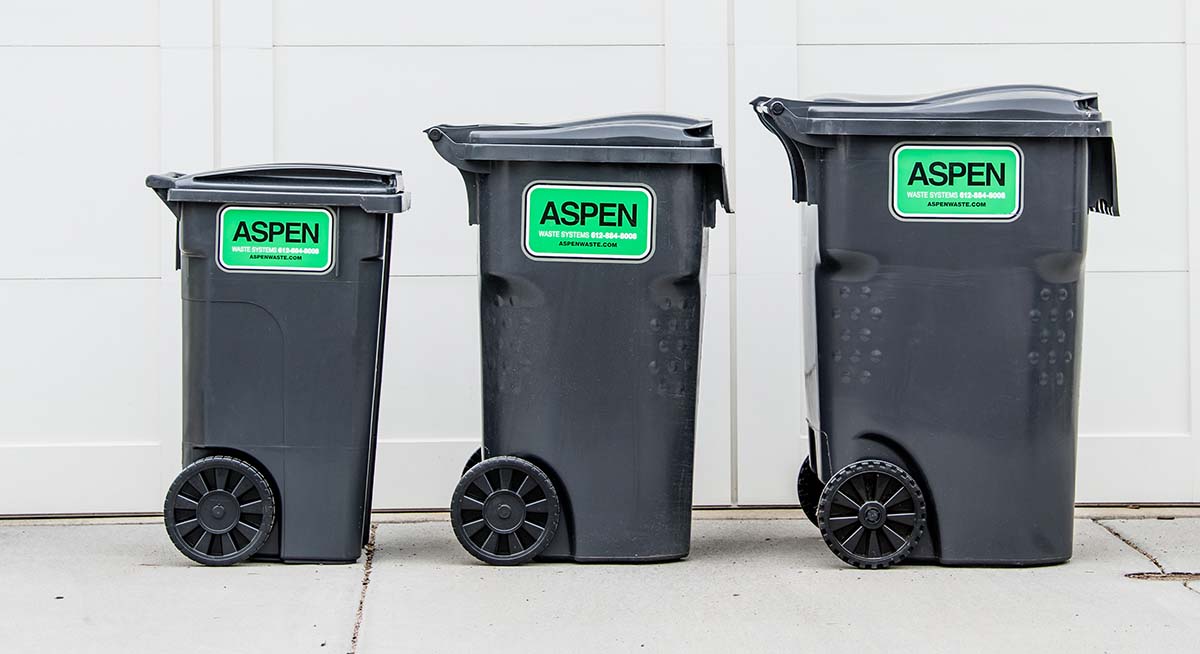 …it's been a breath of fresh air to be able to call your waste service and have a human pickup on the first ring
Golden Valley Yard Waste Services
Aspen Waste Systems also provides Yard Waste Disposal services to Golden Valley residents. Aspen offers weekly yard waste pick-up options during yard waste season (typically April to November) or as an on call pick up. Contact Aspen Waste today to set up service.
Composting in Golden Valley
The City of Golden Valley actively promotes composting to recycle various organic materials. Composting not only diverts waste from landfills but also produces nutrient-rich soil amendments.
Benefits of Composting:
Creates nutrient-dense, sandy soil.

Improves drainage in dense soil.

Converts organic waste into valuable soil or mulch.
Backyard Composting:
During the growing season, consider composting:
Yard waste

Straw

Fruit and vegetable scraps

Coffee grounds

Eggshells
What NOT to Compost:
Woody yard waste

Meat, bones, fat, and oil

Whole eggs and dairy products

Unshredded branches or logs

Seed-laden weeds

Plastics and synthetic fibers

Human or pet waste

General garbage or refuse
For the specific rules on composting, please refer to the Golden Valley ordinance Chapter 22, Section 22-25.
Q1. What day is trash pickup?
Garbage pick up in Golden Valley, MN is weekly. The pickup day is either Monday or Friday depending on where in the city the resident lives.  Recycling services are provided by the City of Golden Valley through a contracted vendor. 
Q2. What time does trash collection start?
Make sure your trash container is on the curb by 7:00 a.m. on collection day. 
Q3. Am I allowed to burn or bury trash in Golden Valley?

Golden Valley, there are specific regulations concerning the disposal of waste:
Burning Waste:
Solid waste and hazardous waste burning is prohibited.

Exceptions are made for those with licenses or special permits.
 Littering:
 

Scattering or dumping solid or hazardous waste in public places is not allowed.
 Scavenging:
 

Going through solid or hazardous waste without the owner's permission is forbidden.

Exceptions are made for those with appropriate licenses.
Q4. Where does my Golden Valley garbage go?
Residential trash pickup in Golden Valley, MN goes to the Hennepin Energy Recovery Center, located at 505 N 6th Avenue, Minneapolis, MN 55405, or the Brooklyn Park Transfer Station located at 8100 Jefferson Hwy, Brooklyn Park, MN 55445.
Q5: What are the Trash Pick Up Holidays in Golden Valley?
Aspen holidays are:
New Years Day

Memorial Day

Fourth of July

Labor Day

Thanksgiving

Christmas
Collection days will be delayed one day if it falls on a holiday.
Q6. What common household items cannot be recycled?
Sign up for Aspen's residential service now.